Game Elevation is specifically designed to accelerate your individual basketball skill development by equipping you with the information, tools and knowledge needed to help you advance in the game of basketball.
Do you have the drive and desire to play at the next level?
Do you want to be the best in the game?
Do you lack the tools and training resources needed to get you there?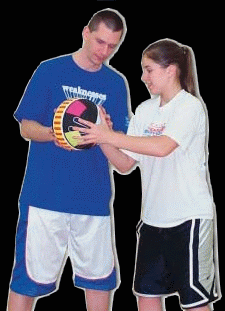 If your answer is "yes" and you want to turn your training "how to" into training "know how" then you need to elevate your game with "Game Elevation."
"Game Elevation" is a basketball skill specific training and workout series geared towards equipping the player and/or coach with the tools needed to go to the next level. With anyone of the "Game Elevation" training books from this series a player will have the tools and resources needed to design, develop, and implement an individual training workout using the drills and variations listed in each training and workout book in order to "turn their weaknesses into strengths and their strengths into weapons!"
The "Game Elevation" Basketball Training Series includes six separate training books covering eleven individual basketball skill topics, 175 individual drills, and 630 drill variations for a total of 805 individual drills.
SHOOTING & FREE THROWS

DEFENSE & FOOTWORK

LOW POST

PASSING & REBOUNDING

QUICKNESS/AGILITY/JUMPING & QUICKNESS

BALL-HANDLING & AGILITY
How the book series works:
1. Identify the skill specific area(s) that needs development.
2. Reference those skills and the corresponding page numbers in the front of the given skill specific book.
3. Go to the given page for the drill you desire.
4. Read the drill description section, recommendation section, and variation section for each drill.
(SEE COMPONENTS OF A LISTED DRILL BELOW)
5. Note drill level, drill type, and required equipment.
(SEE COMPONENTS OF A LISTED DRILL BELOW)
6. If the drill or a variation is desired, the player will document the drill name or the drill variation name in workout forms located in the back of the book.

(SEE COMPONENTS OF A WORKOUT BELOW)
7. Continue this process until each blank section is filled in on your workout form.
8. Now take your specially designed skill specific workout and begin to train.
9. Document keys to your training, adjustments, and other special notes in the daily workout NOTES" section.

(SEE COMPONENTS OF A SAMPLE WORKOUT).
10. Adjust your workout(s) as needed.
With numerous drills and variations at your disposal, your workouts can always stay fresh and the intensity and variation rate of your workouts can always be new and challenging.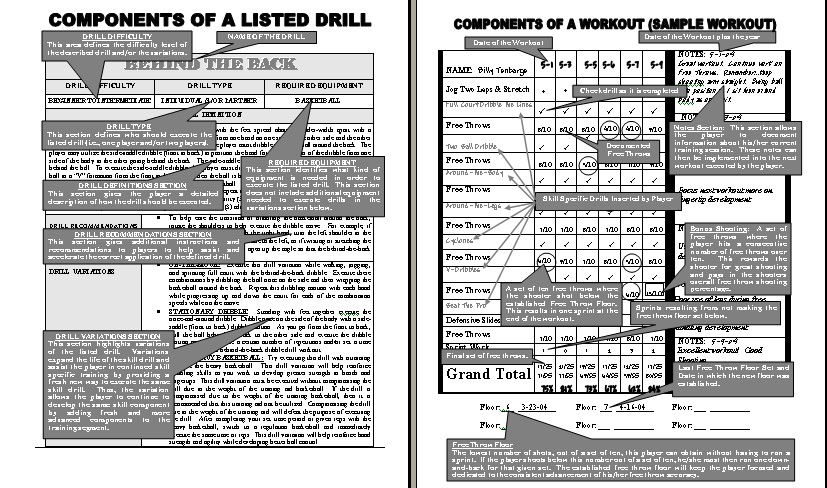 Once the player or coach determines that this is the workout that best fits his/her current training needs, they may then take the workout and begin to implement it into their current workout training schedule. A player and coach may utilize that specific skill set book, another skill set book, or they may mix and match skill sets continually in order to update and/or change training workouts. Whatever the case may be, the "Game Elevation" sports specific training and workout series will allow the player or coach to identify, scan, and then select the drills that best fit their training needs while continuing along the process of "turning their weaknesses into strengths and their strengths into weapons!"
Don't be left behind. Select your series, select your perferred format on our oder page, and begin your pursuit of taking your skills to the next level. Click

to choose DIGITAL or traditional BOOK format.
To take of advantage of the complete benefits of the site and to accelerate your fundamental skill progression and training development use the quick reference site map below:
• The first stop in your fundamental skill development is our Fundamentals page. This page highlights and details the fundamental components of a specific fundamental skill set on a monthly basis.
• Implement a basketball skill drill to improve your individual fundamental skill level with Drills. Drills segments detail and breakdown specific individual basketball skill drills (on a monthly basis) in order to help players advance and progress in the game of basketball.
• Get in the game and take advantage of contests and giveaways on our Contests page.
• In the About Game Elevation section you will learn what Game Elevation is all about plus you will find out more about the seasoned expert behind the series.
• Need personalized basketball training insight...Ask the Expert.
• Get in touch with the Game Elevation staff by visiting our Contact Us page.
• Take your game and training to a different level with the Game Elevation Book Series. This six book individual basketball skill drill training series covers eleven skill topics, 175 individual drills, and 630 additional drill variations all designed to assist you in developing your own individual basketball workout(s) so you can increase your playing ability in order to advance and succeed in the game of basketball. Each book in the series comes with a structured workout format pre-designed to accelerate the formulation of your own individual basketball workout(s). To go to the next level Order your own copy of the Game Elevation series NOW!!!